Mac Mail needs its own app password to access your information. If you use your normal password or your Fastmail two step verification password on an external account, syncing to an external service won't work and you will see a password error.
The instructions and screenshots in this setup guide are for macOS 13.5 (Ventura). Previous versions of OS X should be similar, but may require more details to be entered manually. If you are using an older version of macOS, you can find the information you might be asked for on our server names and ports page.
The easiest way to configure Mail, Contacts or Calendars on a Mac is via our automatic configuration tool. If you prefer to configure your email manually, this page is for you.
Users on a Basic plan will not be able to use Fastmail on third-party mail clients, or create app passwords. IMAP, SMTP, CalDAV, and CardDAV are available to Standard and Professional users only. If you have a Basic plan, you can use Fastmail on a desktop web browser or the Fastmail app on any mobile devices, such as a phone or tablet.
Setting up Mail
Open Mail. If you do not already have any accounts set up, it will prompt you to set up a new account. Otherwise, go to Mail → Add Account.

Select Other Mail Account..., then click Continue.

Fill in your name, email address and app password:

Full Name: The name people will see on the email you send.
Email Address: Your full Fastmail email address, including the domain.
Password: Your Mac Mail app password. (What is an app password?).

Click the Sign In button. Mac Mail will start syncing your mail.
If your username contains a custom domain and you encounter the error "Unable to verify account name or password," you may need to explicitly set the mail servers:
Incoming Mail Server: imap.fastmail.com
Outgoing Mail Server: smtp.fastmail.com
Still not working? Check the troubleshooting guide.
Adding your other email addresses
To use an email address other than your Fastmail username:
Go to Mail → Settings and select the Accounts tab.
Select your Fastmail account on the left.

Click the Email Address dropdown and select Edit Email Addresses.

A new box will appear. Click the plus sign in the corner, then add the email address. Be sure to click OK when you're done.
Setting up Notes
If you're setting up your account in Mail for the first time, you'll be asked if you'd like to set up both Mail and Notes.
If you already have Mail configured, you can set up Notes by following these steps:
Go to Mail → Accounts. This should open the Internet Accounts settings.
Select your Fastmail account.
Enable the toggle button next to the Notes option.
If you want to set up Notes, but you do not want to set up Mail, you can start by following the steps in the "Setting up Mail" section above. At the end of the setup process, you'll be prompted to select the apps you'd like to use with the account. You can keep Notes checked off and uncheck Mail, then click Done.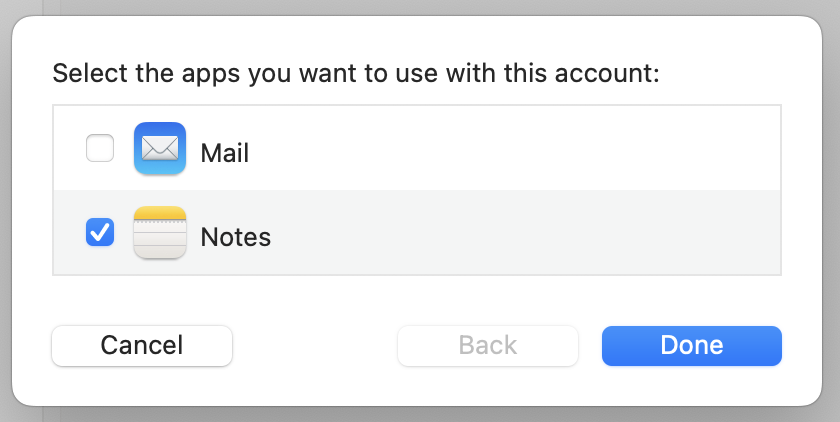 If your notes do not display, it may help to double check the advanced server settings. For more information, please see our Troubleshooting notes help page.