In September 2022, we began migrating our webmail service from www.fastmail.com to app.fastmail.com. In order to limit potential issues, we migrated users in phases. All users were migrated by October 2022.
Users who have been migrated will see a notice in the What's New tab of the sidebar saying "We have moved our webmail to app.fastmail.com. Still the same great experience, just a new URL."
Fastmail beta has been migrated from beta.fastmail.com to betaapp.fastmail.com.
Why is this happening?
For many years, www.fastmail.com has been used by our webmail service (where you access your account and read your mail), as well as our marketing website and some Fastmail user websites. This means that anytime we made changes to our webmail, these changes could affect our marketing website, and vice versa.
We use tools that can enforce certain types of security based on a domain name. Enforcing security changes on www.fastmail.com could break those websites and tools.
In order to use the widest range of security tools without possible risk to other websites running at www.fastmail.com, we chose to migrate the webmail service to app.fastmail.com. The only thing that will run there is our webmail, which means we can apply the strictest security options.
What if I use a password manager?
We have tested popular password managers and browsers in an effort to ensure that in most cases, saved credentials will continue to autofill despite the URL change. However, some users may still find that they need to manually update their credentials to autofill at app.fastmail.com instead of www.fastmail.com.
What if I use the Fastmail app?
As a result of this migration, we have ended support for Versions 2 and 3 of the Fastmail app. Customers using these older versions of the app will need to upgrade to Version 4.
If you have not yet upgraded, you will see the following screen when attempting to open the app: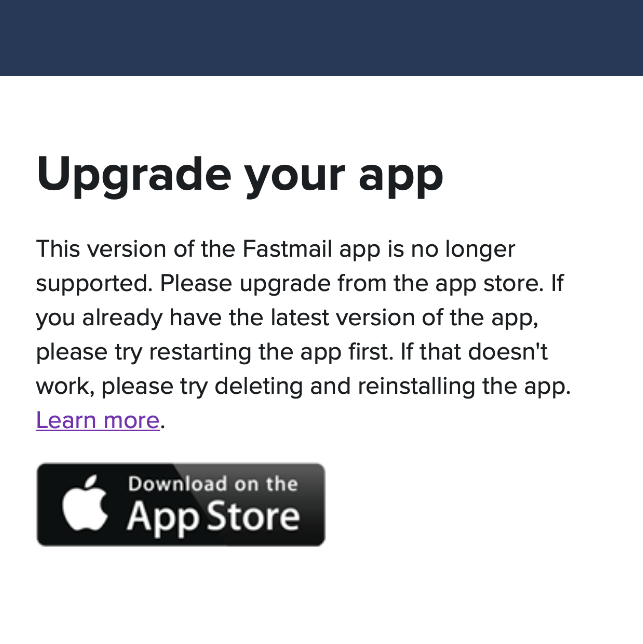 What if I can't upgrade the app?
If you are unable to upgrade to Version 4, you will be unable to use the Fastmail app. In this case, some alternate options include logging in to your Fastmail account using a mobile web browser (e.g., Safari or Chrome), or setting up your Fastmail account in an email app (e.g., Apple Mail).
"Upgrade your app" issue
Some iOS users have reported seeing the "Upgrade your app" screen even after they have already upgraded to Version 4. Deleting and reinstalling the app should resolve this issue.
If you have any other issues or questions regarding upgrading the Fastmail app, please file a ticket with our support team.