With Scheduled Send, you can choose a date and time for your emails to be sent. Write messages at a time that is convenient for you and have them delivered at a time that will be helpful to the recipient, without the risk of forgetting the messages in your Drafts folder.
Scheduled Send is available for users subscribed to our Standard and Professional plans, and for any user subscribed to a legacy plan with at least 10 GB of mail storage.
Scheduling a message
Once you've written and addressed your email in the Compose screen, click the down arrow next to the Send button. You can choose from one of the provided options, or click Choose a date and time.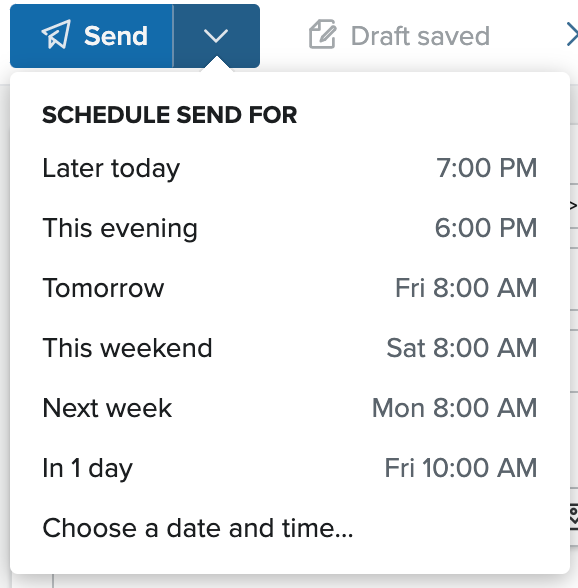 When a date and time is selected, the message will be scheduled. The message can be viewed in your Scheduled folder until it has been sent. After the message has been sent, it will be moved to your Sent folder.
How to cancel or reschedule a message
You can cancel a message by going to your Scheduled folder, opening the message, and clicking the Cancel send button.
The message will move to your Drafts folder and re-open in the Compose screen. From here, you can make any desired edits or choose a new time for the message to be scheduled.
What happens to my scheduled messages if I am unable to send?
If your account is unable to send for any reason (e.g. the account subscription is long overdue), any messages scheduled to be sent during that time will be moved to your Drafts folder.