You can customize your user interface by choosing a theme in the Settings → Display options screen.
Fastmail offers pre-designed themes to suit a variety of tastes, with high contrast for easy readability and automatic adjustments for dark and light modes.
You can also design a custom theme by choosing header and accent colors to suit your preferences.
Light and dark mode
We offer custom themes for light mode and dark mode. Your theme's colors will adjust to suit the current mode. If you choose to customize your own theme, you can select the specific colors you'd like for light mode and dark mode.
If you have system preferences set up for dark mode on your device, you can choose to follow your system preferences by toggling the Switch light/dark to match system button.
Color
We offer four pre-designed themes: grey and Fastmail blue, navy and Fastmail blue, yellow and olive, and pink and purple.

If you'd like to choose your own colors, click Or create a custom theme. You can then set four custom colors: your light mode header and accent colors, and your dark mode header and accent colors.
You can customize your colors by clicking the color square next to each field. This will open a menu where you can experiment with color values, or use the dropper tool to pick up a color from your screen. You can also manually enter the colors into each field as an HTML color code (hex, RGB, or HSL).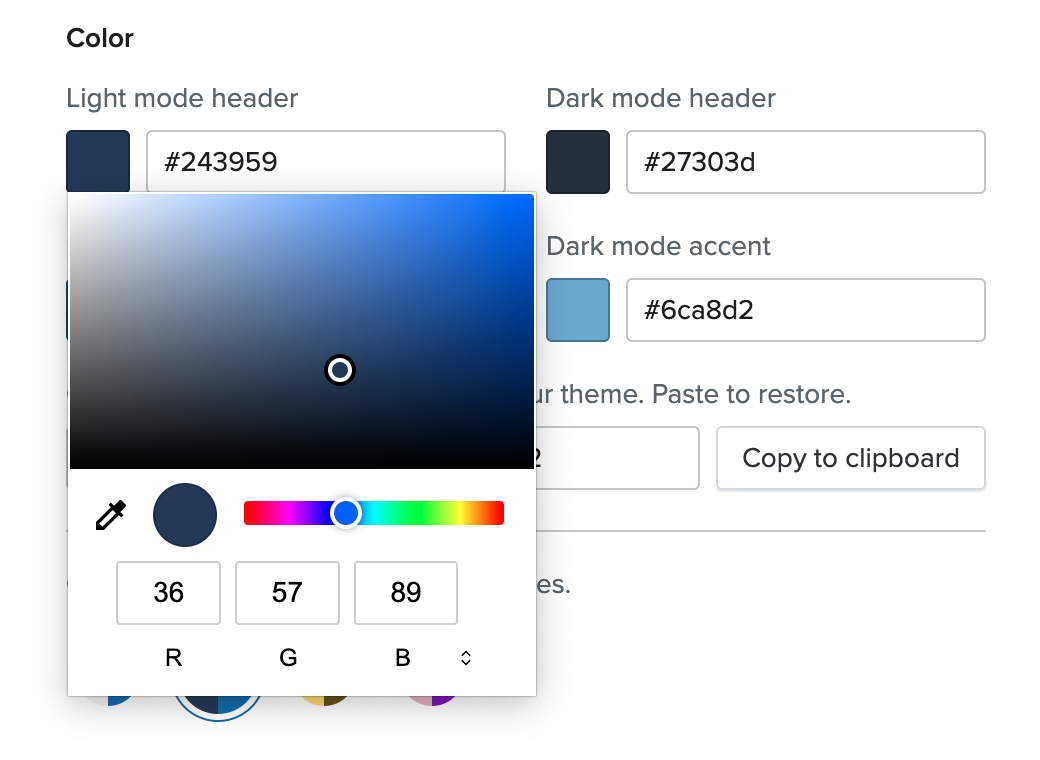 When you download the Fastmail app to use on your mobile device, your theme's accent color will be used. Note: You can only change the accent color on the Fastmail mobile app, as the mobile app's interface does not include headers. If you'd like to adjust your header custom color, you will need to log in to the web interface.
Button style
We offer two button style choices: Modern and Bold.
The Modern button style offers a sleek look that follows your accent color choice.
The Bold button style includes borders around your buttons to help them stand out. Button colors will remain black and white, leaving your accent color to highlight other elements.