If you're coming to Fastmail from Tuffmail, you can bring your email with you. If you own a domain, you can also bring it with you and keep all of your existing email addresses at that domain.
The following information makes it easy to move all your information into Fastmail, once you have signed up for an account and chosen a plan.
---
1. Set up your Tuffmail address for use with Fastmail
To verify and use your Tuffmail address with Fastmail, you'll need to take two steps:
Forward your Tuffmail address to Fastmail
Log in to Tuffmail.
Click on Domain > Addresses.
For the address you want to set up, click Action > Edit.
Add your Fastmail address to "Forwards to user@domain" and click Save and Return.
Set up Fastmail to send from Tuffmail
Log in to Fastmail.
Go to Settings → Migration and click Add external sending address (SMTP) without importing mail.
Enter your Tuffmail address and click Next. On the following screen, click Save.
Click Verify next to your Tuffmail address. On the following screen, click Send verification code.
Find the email with your verification code. (If you've already done step 1 of forwarding your Tuffmail address to Fastmail, look in your Fastmail inbox.) Return to the Verify screen, enter the code, and click the Verify button.
You can set up as many Tuffmail addresses as you have.
That's it, you're done! Welcome to email, calendars and contacts done right.
Effective January 1, 2022, messages for any addresses that you have verified via the above steps are accepted by Fastmail's servers and delivered directly to your Fastmail account.
Setting up a custom domain
If you have a custom domain, you'll need to make some changes to your DNS records so that you can send and receive mail from your domain at Fastmail. These changes are to be made through the control panel supplied by your registrar.
You can add your domain using our interactive domain setup wizard by going to Settings → Domains and clicking Add or buy domain. Follow the steps, and we will check to see if your domain is registered, and guide you through the rest of the process.
We have more information about our domain setup wizard here.
General information about the domain setup process and detailed guides can be found here.
2. Transfer your existing mailbox contents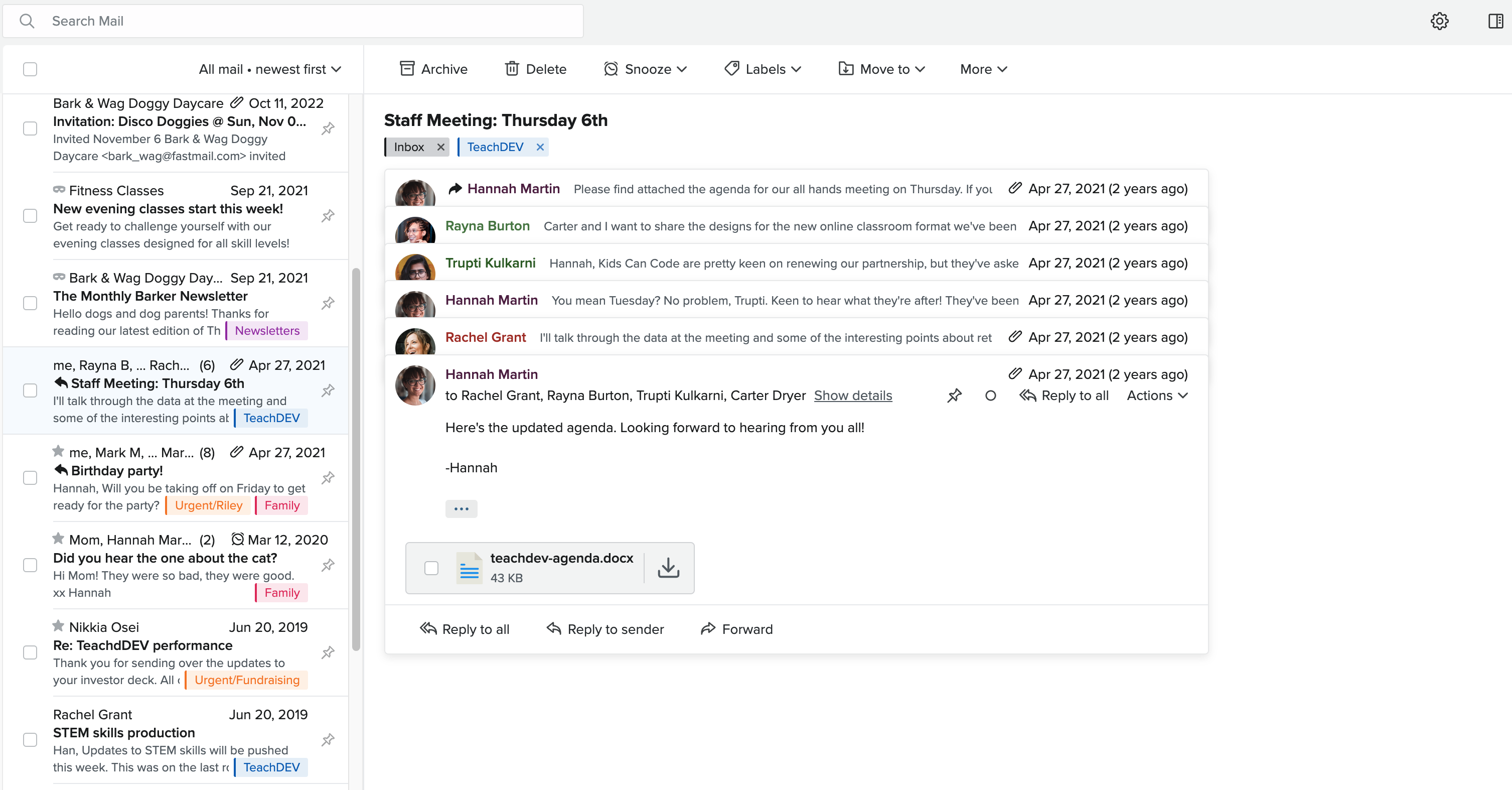 Depending on your needs, you can transfer your current mailbox into Fastmail using two methods: IMAP or POP.
If you wish to move emails from where they are stored at Tuffmail, you will need to transfer your emails via IMAP. IMAP will let you access your mail from any of your devices or from any web browser, and allows you to restore emails from backup.
If you wish to move emails that you have downloaded onto your desktop and access through an email client, you will need to transfer your emails from your desktop client onto Fastmail. Please note that if you download emails from Tuffmail using POP, it will only download mail from your inbox; it won't download mail that is directed to other folders you have created.
Mail held on the server (IMAP)
You can import all your mail from Tuffmail onto Fastmail using our email import tool. This is a one-time task that transfers all your mail and may take some time to complete.
Our importing tool also uses fetch to automatically import any incoming emails from your previous account into your new Fastmail account.
Mail stored on the desktop (POP)
If your old mail is not stored on an IMAP server because you have already downloaded it to your desktop using POP, you can leave it where it is, or you can transfer it to Fastmail's IMAP servers for access through the web client.
To transfer mail in your desktop client to Fastmail's servers, log onto Fastmail from your desktop client and drag the folders containing your existing mail into the Fastmail account's folders. Depending on how much mail you have, this can take some time before the mail completes uploading to our servers.
3. Making the most of Fastmail
Here are a few more things to do when migrating to help you get the most out of Fastmail.
Secure your account with two-step verification (2FA)
Set up your mobile devices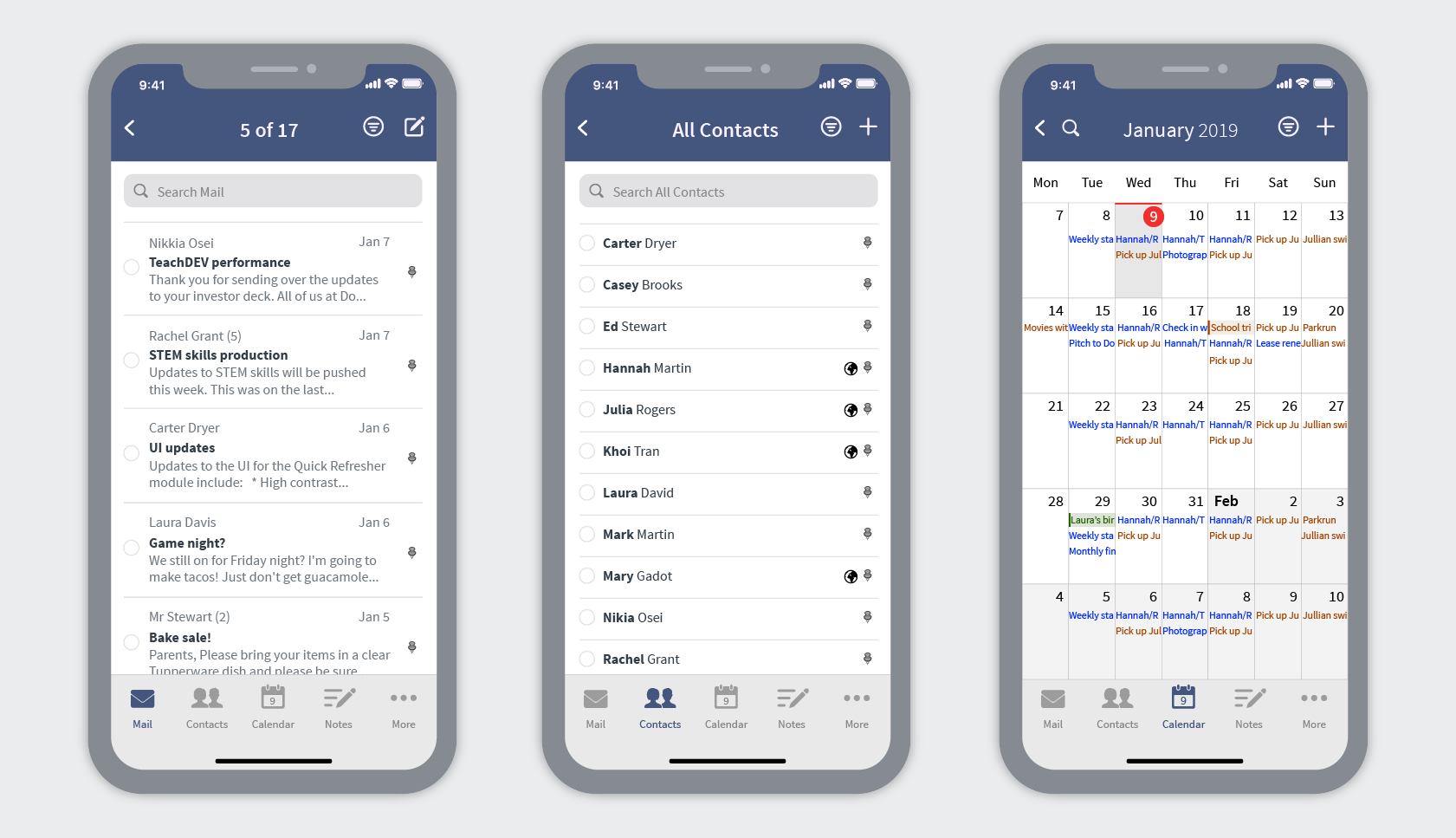 Set up your mobile devices to use Fastmail on the go.
The official Fastmail app is the best way to use Fastmail on your iPhone, iPad, or Android device.
We also have instructions on setting up popular clients if you wish to access Fastmail on an email client.
You can also use a browser on your mobile device to access our web interface.