The instructions and screenshots in this setup guide are for sending from your Fastmail address via the Gmail web interface.
Gmail needs its own app password to send from your Fastmail account. If you use your normal Fastmail password or your Gmail password you will see a password error.
Please note that before adding the Fastmail address you want to use to Gmail, the address needs to first be added on your My email addresses screen. (These addresses can use Fastmail domains, or a custom domain you have set up.)
Set up your email
1. Open Gmail.
2. In the top right, click

→ Settings.
3. Click on Accounts and import tab, then click Add another email address.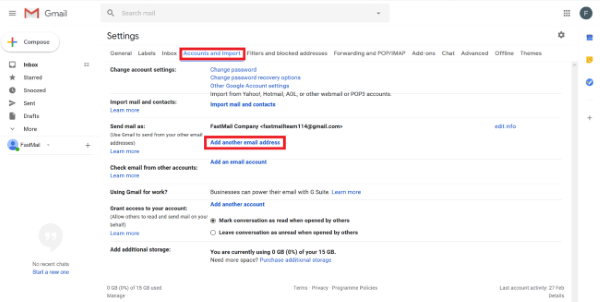 4. Enter your name and the address you want to send from.
5. Click Next Step.
6. For the SMTP server enter: smtp.fastmail.com, port: 465. Enter your Fastmail app password. (What is an app password?)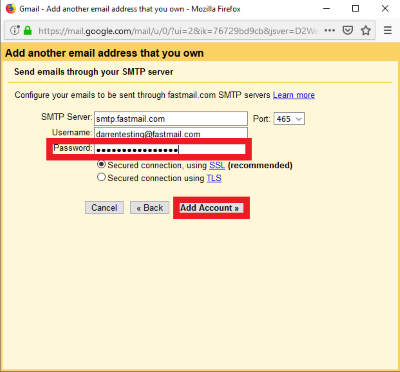 7. Click Verify.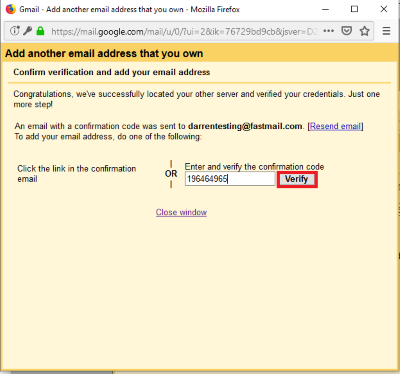 8. Click Add Account.
Confirm the address
1. Sign in to your Fastmail account that you added to Gmail.
2. Open the confirmation you received from Gmail.
3. Click the link, and you'll now be able to send mail from your Fastmail account via Gmail.
Change the "From" address
1. In Gmail, click the From line when composing a new message. (If you don't see this, click the space next to the recipient's email.)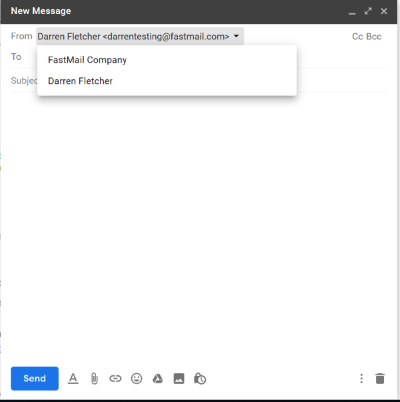 2. Select the address to send from.