Snooze is a tool designed to move messages out of your Inbox, then bring them back when you are ready to respond. This can help you better manage your day and ensure emails appear when you are ready to act upon them.
Snooze is available for users subscribed to our Standard and Professional plans, and for any user subscribed to a legacy plan with at least 10 GB of mail storage.
How to snooze
To snooze a message, select it from your list of messages. Then click the Snooze button on the toolbar at the top of your mailbox:

You can choose how long you'd like the message to be snoozed. We offer the following options by default:
Later: this is 3 hours from the beginning of the current hour. e.g. If it is currently 10:30am, the message will be unsnoozed at 1pm (10am + 3 hours)
This evening: 6pm today. If it is after 6pm, this option is disabled
Tomorrow: 8am tomorrow
This weekend: this coming Saturday at 8am
Next week: next Monday at 8am
Last custom: this remembers the time and number of days from now of the last custom time you used. For example, say that on Monday, September 30th, you choose a new custom date/time of Wednesday, October 2nd at 6am. Tomorrow this option will be Thursday, October 30th at 6am, because it remembers it as 2 days from now, at 6am
Choose a date and time: this option allows you to set a custom day and time for a message to be unsnoozed.
The snooze menu can be opened by pressing B on your keyboard, if you have keyboard shortcuts enabled. Once the menu is opened, you can choose any of the above options by pressing the numbers 1 through 7 on your keyboard.
Viewing snoozed messages
Messages that you've snoozed will appear in the Snoozed folder, directly below your Inbox.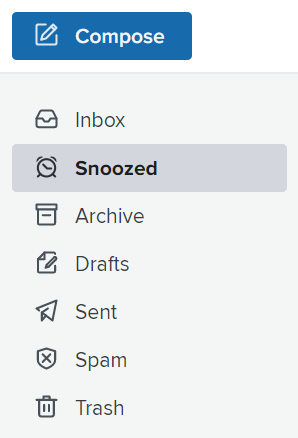 From here, you can unsnooze any message. This will return it back to your Inbox or the folder the message was previously in.
Once you snooze a message, the Snoozed folder is always visible by default, even if the folder is empty. If you'd like to hide this folder, hover over it, click the three vertical dots that appear, and change its visbility.
The ability to snooze is available in our web interface and the Fastmail app. We are unable to provide the ability to snooze messages from a third party mail client.