The instructions and screenshots in this setup guide are for Mac OS X 10.11 (El Capitan). Previous versions of OS X are very similar, but what you see may not exactly match the screenshots below.
Mac Calendar needs its own app password to access your information. If you use your normal password or your Fastmail two step verification password on an external account, syncing to an external service won't work and you will see a password error.
The easiest way to configure Mail, Contacts or Calendars on a Mac is via our automatic configuration tool.
If you'd like to manually configure your Calendar, read on:
Open Calendar.app, then from the menu bar select Calendar → Add Account….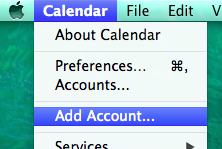 Select Other CalDAV Account….

Leave the Account Type as Automatic, then fill in your Fastmail username and password.

Click the Sign In button. The account will be created and Calendar.app will start syncing your calendars.
With versions of MacOS prior to 10.11 El Capitan, automatic calendar selection doesn't work. Instead when adding a new account, change the Account Type to Manual, then fill in your username, password and the server address:
User Name: Your full Fastmail username, including the domain.
Password: Your Mac Calendar app password. (What is an app password?)
Server Address: caldav.fastmail.com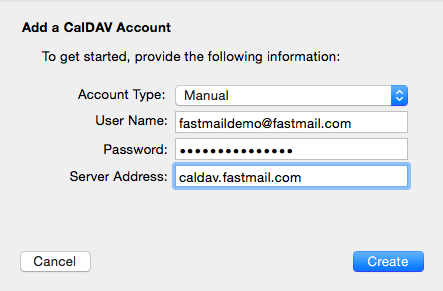 With some even older versions of MacOS, there may be an error at this point. Click the Create button again and you will be able to enter some additional details.
Server Path: /dav/principals/user/youruser@yourdomain/ (with youruser and yourdomain replaced with your Fastmail username and domain)
SSL: Should be checked
When you click the Create button again, the calendar should start syncing.