Adding contacts
Contacts can be added directly on your Contacts screen. Here, click New Contact, and enter as many details as you'd like. You can also add a contact from within an email address. When viewing a message, click on the sender's email addres. Then, click the blue Add to Contacts button.
Contacts can also be imported.
Searching
When trying to find a particular contact, use our search functionality. Accessible in the menu bar, or via the / shortcut.
You can search for a user by these fields: email addresses, phone numbers, online contact (website, Skype handle, Twitter handle, etc), notes, nickname, company, title. Searching isn't case sensitive (searching for a matches a and A and any accented versions such as Ǻ).
Searching provides immediate feedback, with all contacts who match being shown instantly, narrowing down the results as you continue to type.
If you have:
Bloggs, Jim
Bloggs, Joe
Bloggs, Mary

and you search for j, then Jim Bloggs and Joe Bloggs will be shown. If you keep typing and search for jo, then just Joe Bloggs will match.
Sorting
Change how your contact list displays by using the sorting selector. This lets you choose whether your contacts are shown ordered by first name, last name, company name, or nickname.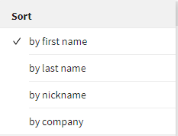 Changing the sorting order also changes the display. If you sort by last name, your contacts will be shown as <last name> <first name>. If you sort by first name, company, or nickname, your contacts will be shown as <first name> <last name>.
VIP contacts
Contacts can be added to your VIP list. You can give this group special permissions, including receiving notifications for messages from these contacts only.
VIP contacts will be displayed with a star icon next to their name, and messages from these contacts will appear with a star icon in your mailbox.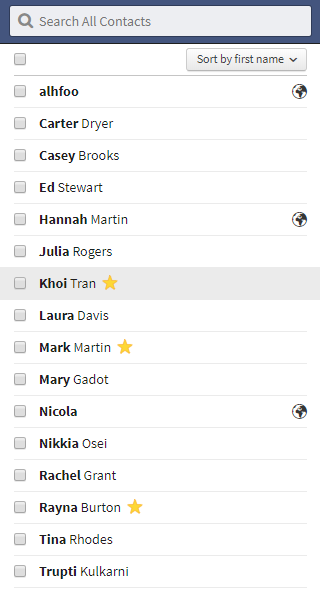 You can view just VIP contacts by clicking on the VIPs group under All Contacts.
Notifications can be enabled for VIP contacts only. For more information, please see our help page on notifications.
Auto-save new contacts
You can automatically save email addresses to your contact list, any time you email someone new.
Go to the Settings → Preferences screen, click Show Advanced Preferences, and click on the Auto-save contacts option in the Compose & Reply section.
Other information
See separate pages for information on: